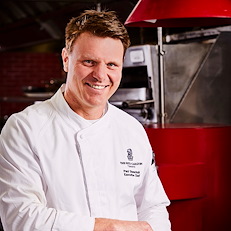 Paul Shewchuk
Executive Chef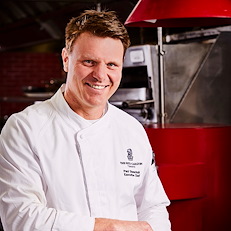 Paul Shewchuk
Executive Chef
Hailing from Kitchener, Ontario, Executive Chef Shewchuk started his culinary journey with studies at Humber College. He then began his impressive career studying under Chef Michael Stadtländer, the father of Canada's influential farm-to-table culinary movement, with a placement at the famed Eigensinn Farm, where he further developed his passion for sustainability and quality ingredients. Chef Shewchuk then joined the AAA Five Diamond awarded Langdon Hall Country House Hotel & Spa under the tutelage of renowned Chef Johnathan Gushue, as Restaurant Chef de Partie. Chef Shewchuk moved to the west coast, taking leadership roles in smaller restaurants and resorts before beginning an 8-year progressive tenure with Fairmont Hotels & Resorts. Developing from Restaurant Chef at The Fairmont Jasper Park Lodge, to Executive Chef, at The Fairmont Olympic Hotel, Chef Shewchuk accumulated a number of awards and honors. Playing Host Chef for the James Beard Foundation Taste America: Seattle event (2017), Chef Shewchuk established his place among his peers - some of the top chefs in the world.
Chef Paul Shewchuk has been redefining the hotel's food and beverage program at the hotel since his arrival. He has taken his expertise to reimagine the culinary offerings available, including the new TOCA Dine-at-Home menus, in-room dining experiences, innovative banquet catering for the hotel's meeting spaces and ballroom, as well as initiating a rooftop herb garden on the 53rd floor.
"The Ritz-Carlton name has always been synonymous with culinary excellence. I am very proud to bring my experience and creativity to the team here at The Ritz-Carlton, Toronto. My family and I are so happy to call Toronto home." Chef Paul Shewchuk said of his appointment.
É lyse Lambert
Master Sommelier
É lyse Lambert
Master Sommelier
Born in Montréal, Québec, Elyse graduated with a degree in hotel management from the prestigious Institut de tourisme et d'hôtellerie du Québec (ITHQ) in 1998 and as Sommelier from L'École Hôtelière des Laurentides in 1999. In May of 2015, she became Canada's first Quebecer to hold the prestigious title of Master Sommelier.
Elyse has been working in the restaurant industry for more than 30 years. She has joined The Ritz-Carlton, Toronto's wine team more than a year ago. She is also sharing her passion at Radio-Canada's morning show and, consults for private and corporate clients. She is often invited to facilitate wine education seminars and to speak at corporate functions in Canada and around the world.
Oliver Glowig
Partner Chef
Oliver Glowig
Partner Chef
Originally from Germany, our partner Chef Oliver Glowig is recognized as one of Italy's top restaurateurs. After receiving his first Michelin star at Acquarello in Munich, Chef Oliver became Executive Chef at the two Michelin star restaurant L'Olivo, located in the Capri Palace Hotel & Spa. Chef Oliver is based in Rome where he also oversees Primavera Restaurant in the Ritz Carlton Bahrain, La Locanda by Oliver Glowig Saas-Fee Switzerland. As Partner Chef at TOCA, Chef Oliver brings his culinary artistry and expertise to our handcrafted Italian menu.
The quality of raw materials is crucial for a top-class cuisine, but there must also be a good deal of creativity, passion and hard-work, all skills innate in Oliver, who somehow manages to find a balance between the discipline and precision of his German origins and Italian creativity and resourcefulness.